Pulock and the Islanders; the beginning of Gibson; Best Ball Leagues – November 18 – DobberHockey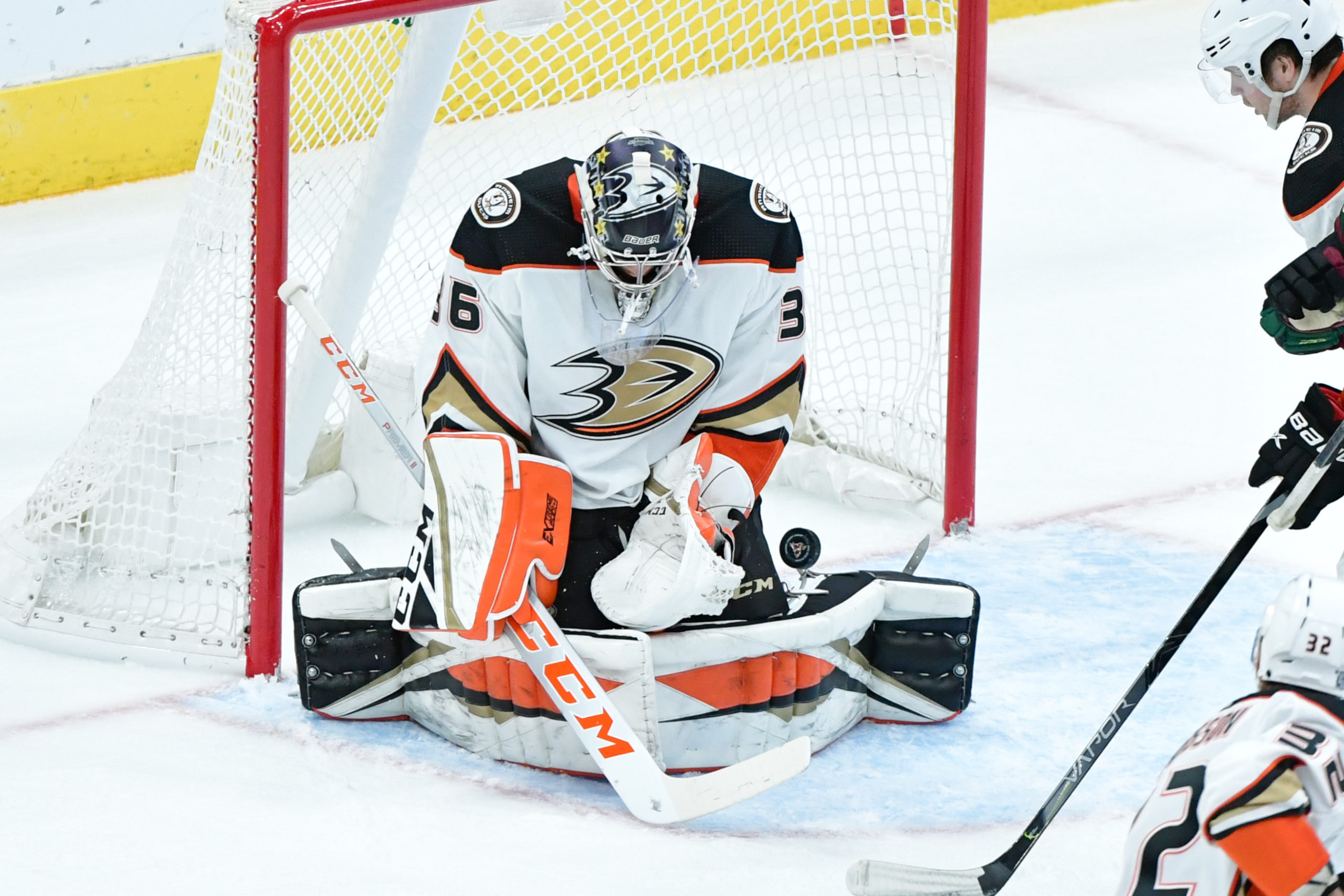 The New York Islanders have been a fascinating team to start the season. They entered the campaign as Cup contenders but are 5-6-2 after their monster trip to start the season. Keep in mind that this team still hasn't played a home game, with their first game coming up on Saturday against Calgary. They only have four games before hitting the road as well. In fact, the schedule ahead is not very forgiving: home games against the Flames, Leafs, Rangers and Penguins before hitting the road for two more games. This team could qualify for the 20th game of the season and still be under 0.500. This is a problem in a division where all the teams except the Penguins, who are just starting to recover, have more points than games played.
It has been a headache for fantasy owners. No player on the team has double-digit points and the quartet of Bailey, Palmieri, Parise and Pageau have three goals combined. The problems continue as Ryan Pulock encountered injury issues:
What's going on this season? Let's dig.
What stood out to me while watching HockeyViz was the Islanders' 5-5 defense this year. They drop a ton of punches from the top of the circle on the left side:
While this is not necessarily a dangerous area, it also depends on whether there are any cross passes leading to those shots. It's harder to analyze, but it's worth noting that they are giving up the sixth-highest number of shooting attempts per 60 minutes at 5v5, but are in the middle of the league by expected goals against. They give up a lot of shots, but that's an almost 20% increase in shots, only a 10% increase in quality, as measured by expected goals. The reality is that the defense doesn't look any worse, if we look at the volume and quality ratios they just give up more shots, and that naturally leads to more scoring chances.
It should be noted that the team added Zdeno Chara in the offseason, a left-handed defender. It was the only significant change from last year. It's worth watching how he's doing this year, and if that can help explain what's going on.
Well, here's how the team is doing defensively with him on the ice:
I hate to say it, but it seems like a perfect fit for what they're giving up on the whole. Although they still give up a lot from that left point with him out of the ice, it looks like he's part of the problem.
Something else struck me: what about Anders Lee? He usually plays a lot of minutes and is a 31-year-old forward who has just had major knee surgery. I stayed at HockeyViz and looked at the environment still. Anyway, I wanted to see if the team was still bad defensively with Lee on the ice on his left wing. without Chara on the ice with him. It's, uh, absolutely horrible:
I guess we'll see if it was just row combinations, as it has been lowered in recent contests. But then again, major surgery for an aging striker is no small feat, and it's a very, very bad start for him defensively.
What's worth noting here is that its expected rate targets on ice are also north of 3.3. There's a lot going on when Lee is on the ice, it's just worse than good, and the defense is considerably worse than it's ever been.
It looks like the Islanders' front row is pushing for more goals, but it leads to more goals behind them in return. Lee still seems efficient in his leading role, but if they can't consolidate the defensive zone's problems, it won't matter.
Now on the second line. I had a hypothesis I wanted to test: it was Josh Bailey who was dragging most of their lines, making them look worse than they actually are. So here are the numbers for the second row with and without Bailey at 5 to 5 this year, via Natural Stat Trick:
It's, uh, a radical turning point with and without him. The point is, it's not the same effect on the first row, because it doesn't matter who's been there, when it comes to shots or expected goals allowed. This leads me to believe that yes, Bailey is struggling, but it is quite possible that Lee is too.
That's pretty much where I am with this team. I think they have two top 6 wingers who have varying levels of poor start to the season, and they're trying to play at a faster pace overall. I also think Chara isn't quite in her place yet, although we'll see how it goes.
A team trying to play faster while adding Chara to the blue line and having a (potentially) slowed down Lee sounds like a recipe for what we're seeing: more goals coming and going. I don't think this is necessarily a recipe for disaster, however. The coaching team must have the trust of the players and the fans, it can become a growing pain for a while.
The big worry of fantasy owners is the goalie. A fast-paced team like the Islanders is just going to allow more shots in each game. More shots means more saves, but it will also lead to more goals against. That's not why we drafted the Islanders goalies. We drafted them for goals against averages in pounds sterling, not averages. If that persists, that's a huge problem for anyone who has invested a lot in either goalie or another.
*
We love a rebound story, right? What about John Gibson? He posted a .921 save percentage over six seasons before posting .904 and .903 in his last two years. I still believed a lot in Gibson, but one fact about fantasy hockey is that the goalie position is all about the quality of the team, and I thought the Ducks would be bad. Well, as of this writing, heading into Wednesday night's games, they're leading the Pacific and he's got a .925 save percentage.
I looked around the HockeyViz site and noticed that the team's defense was actually not bad for Anaheim. They drop a fair amount of punches right at the bottom, but they keep the slot clean. As long as Gibson can cut corners and defenders give off second chances, maybe he can survive like this.
One of the big improvements seems to be the penalty kill. They drop the wing shots, but they keep the cleft completely clean. With no shots coming in from the middle, Gibson can focus more on his lateral movement. Fewer decisions always make hockey easier.
Call me optimistic here. The West is not strong, as expected, and after a brief two-game trip ahead, there is a 12-game streak including Ottawa, Los Angeles, a team from Vegas hampered, Buffalo, Columbus and Arizona. I think there's a good chance Gibson will keep something near that pace, at least in save percentage, for another six weeks. After that, the team starts Christmas against San Jose and Vancouver, which are easier games. But then Vegas (which will have at least William Karlsson by then), Colorado twice, Boston, Toronto, Minnesota, Pittsburgh and Philadelphia from late December to late January. That's my recommendation here: try to get another month or so from Gibson, then look for business deals as more and more people are buying the turnaround.
Of course, he might just have a great year, like he's done a few times before, and then we trade a potential top-5 goalie of the season. These are the risks of the position.
*
I talk a lot about Best Ball here, and just checked out my teams for the first time in a few weeks. Man, it's not been a good few weeks. It seems like I did three things a lot: I drafted Nikita Kucherov and stacked the talented players from Vancouver / Florida. It's not going well.
My two most drafted players were Jared McCann and Timo Meier. It works great in an alternate universe somewhere. Kucherov was my fourth most drafted player. It doesn't work in any universe.
The Florida Panthers stacks are the things that really don't go through. The team wins a ton of games, yes, but let's be honest about the production of the qualified players – it's not great. Barkov is now injured, Huberdeau has one point per game, Bennett is on pace for around 20 assists and Reinhart is on pace for 15 goals. They don't wrestle mightily or anything, but they're not league winning totals. It would be up to anyone who got as much of the top half of the Edmonton roster as they could, anyone who got the Kuznetsov / Ovechkin stack, or the right combination of some of those guys.
It is still early days, of course. But with Barkov and Kucherov injured, and the Canucks looking like a potential lottery team, my best ball teams take a hit and that will continue until morale improves. Does anyone play the best ball this year? How are you doing? Let me know.