Nova Peris awarded bronze in central Melbourne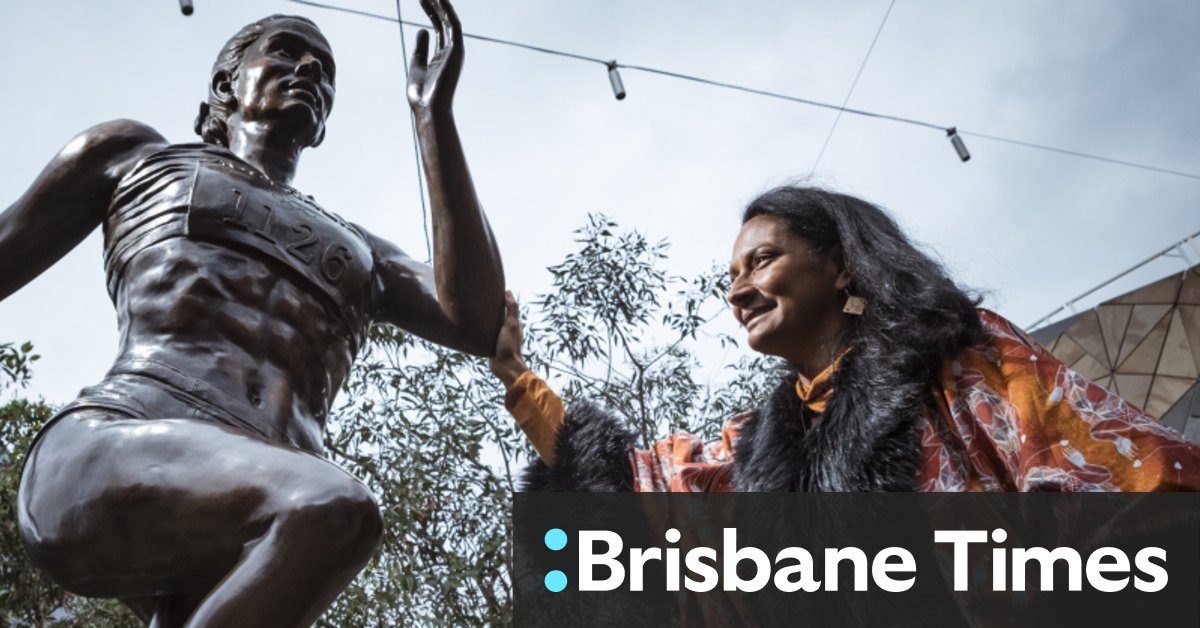 Awarded the Order of Australia in 1997, Peris is an official ambassador for the Australian Aboriginal Education Foundation, which offers scholarships to Indigenous students. Later in the year, the statue will move to its hometown of Darwin.
It's not the only installation at Fed Square this week. A bright pink, 8.5-meter-tall immersive work of art that doubles as a life-size maze, called The knot, was also unveiled.
Designed by French architect turned artist Cyril Lancelin, it looks like a wacky piece of knitting, fallen from a set of giant needles, and changes its appearance as you walk through it. At night, when illuminated from the inside, it shines. "When the sunlight comes, it will have shadows on itself," said the 46-year-old Lyon artist. "It's easy and complex at the same time.
Made from inflatable plastic because it is transportable, recyclable and can create a large shape without using a lot of material, The knot is intended to "take people to an unknown place".
"It's a surprising work of art. The idea is to bring people in and when you are inside to explore, to feel like you are somewhere else, "Lancelin said. "There is no building or space like this that we know … It's like a new place, a new exploration."
The sculpture heralds Bastille Day celebrations in Fed Square this weekend, when stalls will sell French dishes ranging from mulled wine and Armagnac to pancakes and cheese. Classic French films will be shown on the main screen, lectures will cover French history and art, wine and culture, and touring artists will provide live entertainment, from classic tunes to electronics.
Lancelin's art is eclectic, using primitive forms: spheres, cylinders, cubes, pyramids. His work, through his Town and Concrete workshop, includes Torus flamingo, a massive flock of intertwined flamingos in New York – the legs are reminiscent of The knot – Blue Pyramid made from what looks like stainless steel balloons in Lisbon, and Mix, a large-scale piece made from fake watermelons in Beijing.
"The thing about artwork is that I like it to be immersive: people can watch at that, then they can look from the inside, "he said. "There is no such thing as the public, the public does the job.
Based on mathematical equations, Lancelin stated that the circular shape of The knot responds to the hard edges and triangles of Fed Square.
Loading
While disappointed that he couldn't be there to see the completed work in situ, Lancelin said Instagram allowed him to engage. "I am always interested to see how people talk about it, not in words but in their images. It's like a dialogue [there are] always unexpected images. "
July 14 at Federation Square will be July 16 from 10 a.m. to 10 p.m. and July 17 from 10 a.m. to 6 p.m.