College hockey: Coach Haney looks to create championship atmosphere in SUNY Potsdam women's program | University sport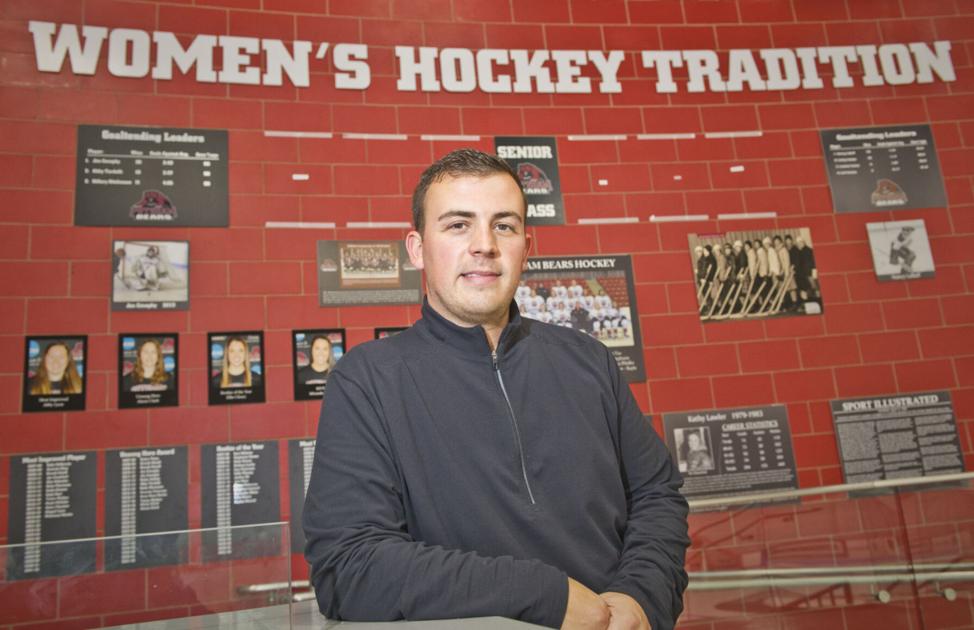 POTSDAM – Greg Haney knows what it's like to win a championship, including the NCAA Division III National Hockey Championship.
Now Haney wants to do the same with the SUNY Potsdam women's hockey team.
Haney reached the Division III men's national title game in 2015 as an assistant for Wisconsin-Stevens Point. He also worked with the SUNY Oswego women's program, helping them in the NEWHL Championship game in 2018.
Prior to being hired by the Bears, he was an NCAA Division I assistant at Lindenwood.
Haney replaces Jay Green, who started the program and retired after the 2019-20 season.
"It's going to be a different style, a different rhythm for the game," Haney said of his team. "We will have a lot of the same players, but we also have new faces. Coach Green's teams have always played hard; we will try to keep the same identity.
It would have been Haney's second season as Potsdam coach, but due to COVID-19 the Bears were never able to play a game last year. About 14 of the current players were on campus last year and they've worked hard to improve their skills.
"We didn't talk about systems last year, we were trying to improve ourselves as individuals," Haney said. "We did other things to improve the experience while we were here."
The Bears' season kicks off at 7 a.m. this evening with a game in Geneva against William Smith College. Teams swap locations on Saturday for SUNY Potsdam's home opener at 3 p.m.
"It's a great group," Haney said of his first team. "A lot of people find themselves in different situations. I have been very lucky. The difficult trials we went through only made us stronger. It was fun, a lot of work and a lot of fun.
Graduate student captain Alexis Clark said: "It's an incredible feeling (to play). With the COVID pandemic, it was heartbreaking to lose my senior season. We just focused on skills, getting to know each other.
Haney has already made a connection with players who were here before him, making it easier to transition from one coach to another.
"It's been a great adjustment and he will be a great asset," said junior Alex Quinn, from Potsdam. "He devotes a lot of time and effort to our team. He really wants us to understand our system. The time and effort he devotes to it really shows. I think we can be as good as we want. If we want to win a championship, we can win a championship.
The Bears' program kicked off in the 2008-09 season and SUNY Potsdam saw only two winning teams, each with a 12-10 record, during that time. The last winning season dates back to 2013-14.
"That's the goal," Haney said of moving the program up one level. "We are going to work on our experience, there is a process to get there. Everyone adheres to it. Everyone wants to win championships. Our process is different from a (SUNY) Plattsburgh or Oswego.
Potsdam, the village, is no stranger to the women's hockey championship, with Clarkson University having won three NCAA Division I national titles since 2014.
"It was done across the street," Haney said of Clarkson. "It's a little different landscape and opportunity, but it's a hockey town. It's a hockey zone. If you're doing the right things and we're in the right area, we've got to make sure we get out there and see these (rookies). Everyone knows a champion and they have done it several times. It's a good thing to be able to relate to. We share a lot of the same things they do on a daily basis. We used their experience to connect with some players who may not be from New York or even the Northeast. "
A look at every Division III team in the area:
Coach: Greg Haney (first year)
2019-20 record: 10-12-2 in total, 7-9-2 NEWHL.
Roster: Ellie Zurfluh (So. G), Ellie Cleary (Sr. F), Emily Burke (Gr. D), Rebecca Holmes (So. D), Lexi Warner (So. F), Taylor Swamp (Jr. D), Sara Barrett (Fr. D), Lyvia Chambers (Fr. F / D), Emily Dellaneve (Jr. F), Alex Quinn (Jr. F), Megan Sheehan (Fr. D), Stephanie Dunlap (Sr. F), Alexis Clark (Gr. F), Kaylee Merrill (Jr. F), Makenzie Martin (Sr. D), Allie Banas (Gr. F), Abigail Lyon (Jr. D), Karley Green (Fr. F), Hannah Barrett (P. G).
Coach: Dave LaBaff (8th grade).
File 2019-2020: 8-16-1, 3-14-1 NEWHL.
Roster: Karena Barrett (Fr. F), Sandrene Garofalo (Fr. D), Halle McKinnon (Fr. F), Iida Laitinen (So. F), Maggie Convery (Sr. F), Micayla MacIntyre (Sr. D), Karli St. Ann (So. F), Danielle Goner (Fr. D), Meghan Best (So. F), Desiree Shook (So. F), Verity Lewis (Jr. D), Hannah Desrochers (Jr. F), Gracyn Emmerton (So. F), Scarlet DiToro (Fr. F), Victoria McGarrity (So. F), Kelly Leathem (Sr. D), Madelyne Petrie (Fr. F / D), Makayla Young (So. D), Sirena Alvarez (Jr. G), Hannah Clement (So. F), Sarah Kosnaskie (Jr. F), Brianna Medved (Fr. D).
Coach: Chris Bernard (11th grade).
2019-2020 review: 18-7-2, 9-9-2 SUNYAC.
Roster: Ethan Clark (Sr. D), Tyler Lisieski (Fr. D), Thomas Terranova (Sr. F), Ryan Lieth (So. D), Drew Rose (Fr. D), Corson Green (Jr. D), Brett Horn (Sr. F), Jack Ludwig (Fr. F), Justin Geary (Sr. D), Jack Bloem (Jr. F), Ben Thompson (Sr. F), Victor Nikiforov (So. F), Nick Alfieri (Jr. F), Connor Cruickshank (Jr. D), Michael Olszewski (So. F), Michael McArthur (Sr. F), Noah Dollo (Jr. F), Justin Vernace (Jr. F), Nolan Towne (Fr . .D), Andrew Lantry (Fr.F), Carter Lennon (Fr.D), Chris Gratton (Sr.D), Josh Bifolchi (Fr.F), Robert Clerc (Jr.F), Michael Paglucca (Sr. G), Nico Gamarra (Fr. G), Connor Green (Jr. G), Jack Loran (Fr. F), Garrett McArthur (Fr. F).
Coach: Alex Boak (6th year).
Roster: Jarrod Croswell (Jr. D), Trevor Christopher (So. D), Zach Ahola (Sr. F), Sam Martin (Jr. F), Bailey Conklin (Sr. F), Gino DeBlasiis (So. F), Patrick Pratapas (So. F), Max Bourque (So. F), Noah Robinson (Sr. F), Jack Mayette (Sr. F), Sean Shepard (Sr. D), Jesse Farabee (Sr. F), Filip Jakobsson (Fr. F), Matt Passaretti (Jr. D), Connor Tuttle (Sr. D), Colton Sipperly (So. F), Brendan McCormack (Jr. F), Sebastien Paquette (So. D), Filip Schlyter (So .. G), Brandon McCorriston (Sr. G), Brady Morrison (Fr. D), Lucas Roy (So. D), Matthew Headland (Jr. F), Pierce Diamond (Jr. G), Brendan Morrow (Fr. F), Zac Sirota (Fr. F), Brett Bannister (Jr. F), Carson Lanceleve (Fr. F).